Several Edmunds employees took 12 months and 20,000 miles to determine how the 2014 Acura MDX fared with other luxury SUVs; a rapidly growing market segment. Reviewers had high expectations for Acura's top-selling vehicle.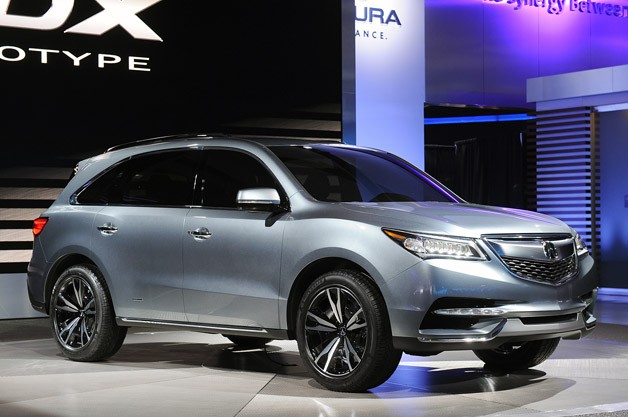 Edmunds.com gave this vehicle an "A" rating for safety and dependability. The Insurance Institute for Highway Safety (IIHS) also named the MDX a 2014 Top Safety Pick+. As part of the luxury SUV marketing, the MDX comes standard with several high-class features: "Jewel Eye LED headlights, a multiview rearview camera, automatic three-zone climate control, heated front seats, push-button start, a power tailgate, Bluetooth, USB input and a suite of driving personalization options that Acura calls IDS."
A 290-horsepower 3.5-liter V6 engine with a six-speed automatic transmission is the only engine option, but the SUV does offer several styles/packages to choose from, like front-wheel drive or all-wheel drive. The following quotes are directly from the Edmunds reviewers:


"The grip provided by the SH-AWD system gives me the feeling that if I wanted to blow past the speed limit (I never would) I could, and the MDX would stay on course. If I need the MDX to get up to freeway speed, it is more than willing. It moves as easily as an aggressive car that handles really well and can seat seven."--Matt Jones
"Use the shift paddles to manually select gears and you can wring this smooth V6 right up to redline. Above 5,000 rpm, it produces a snarly, more aggressive engine note that could very well bring a smile to your face. The V6's sound is even more pronounced when the IDS mode is set to Sport."-- Brent Romans
With three rows, families (comprising of both adult and children) will find this SUV a comfortable and spacious fit. For the fuel-conscientious customer, the average MPG for this SUV is around 20.8 mpg, but some reviewers got upwards of 29.9 mpg.


"For the fireworks trip, which included the wife"s relatives with their two kiddos, it was a snap to flip and slide the second-row seats forward to let the little ones get in the back. Three adults sat in the second row while the missus and I sat up front...nobody griped about pinched shoulders or legs."--John DiPietro
"Our long-term 2014 Acura MDX was actually the third vehicle I attempted to transport said stuff. The MDX succeeded where other vehicles in our fleet did not (or had only partial success)."--Jason Kavanagh
"I like the inside of our 2014 Acura MDX a lot. These hard plastic cargo compartments are ideal for my weekly hikes. They allow for mess-free storage of my shoes, shirt and water bottle without getting dust and mud all over the carpeted surfaces."--Travis Langness
"The most impressive feat was its single tank range record of 541.1 miles. That's a pretty impressive number for an SUV of its size. That same tank also netted the MDX its most efficient average mileage number of 29.9 mpg, another impressive number for a three-row vehicle with a big V6 under the hood."--Dan Edmunds
In addition to the roomy cabin, the interior is filled with an upgraded audio system, with a total of 8 speakers, USB connection, auxiliary audio input and satellite radio. Navigation, music voice command and voice recognition are three of the numerous optional features.
This SUV is fully loaded and fully capable. The powerful engine, strong suspension and comfortable interior give most customers an answer to their search for a vehicle that does it all. The Edumunds review finishes with an outstanding flourish, in case you needed more convincing: "One of the best three-row luxury crossover vehicles on the market. The MDX combines excellent packaging with a strong yet fuel-efficient engine that makes it perfectly suited for a wide range of tasks. If your family is looking for one vehicle to do it all, the MDX is a top choice."