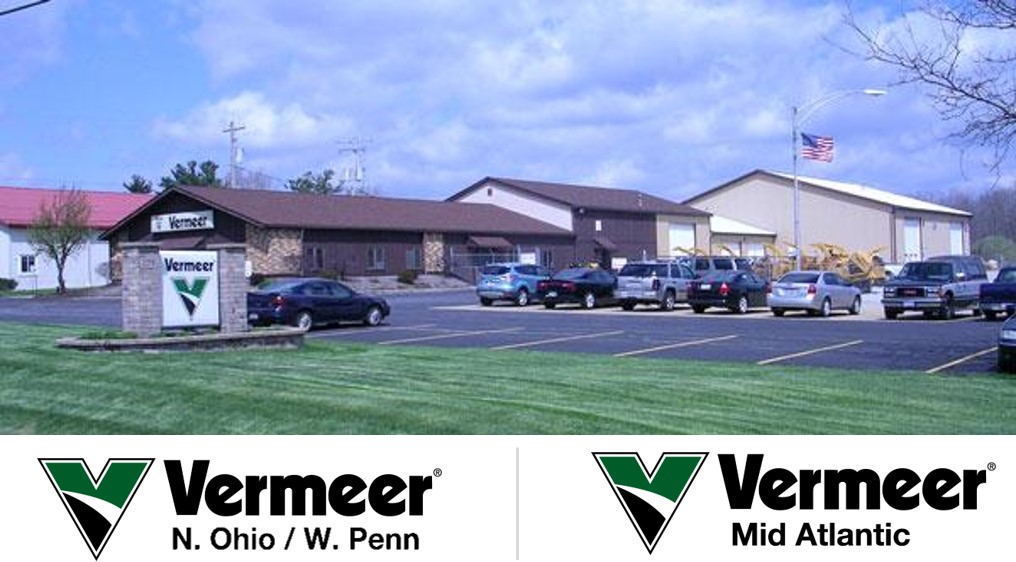 Vermeer Mid Atlantic Announces Expansion with Acquisition of Three Additional Dealerships
Vermeer Mid Atlantic (VMA) continues its expansion into the industrial equipment industry with the acquisition of three additional dealerships owned by Vermeer Sales and Service Inc. (VSSI), a dealer partner of Vermeer Corporation with three locations serving the Pittsburgh, Cleveland and Toledo markets. Vermeer specializes in providing equipment sales, service and parts to customers in industries such as utility installation, horizontal directional drilling, tree care, equipment rentals, landscaping and organic recycling. 
This expansion gives VMA (a member of the Norris Automotive Group of companies), an impressive regional service area that includes Northern Ohio, Western Pennsylvania, Eastern West Virginia, Maryland, Delaware, Virginia, North Carolina and South Carolina.    
"We are really excited about the opportunity to expand our partnership with Vermeer," said Andy Franklin, VMA CEO. "Vermeer Corporation is a terrific partner, and we are really excited about the leadership and direction of the company." 
Founded in 1960, VSSI was built on a simple and honest approach to customer service - build a local facility where customers could come for readily available parts, service and equipment, staffed by local people with knowledge and a desire to help. That commitment stands true 50 years later, and the staff, with an average of over 12 years of experience, are passionate about the Vermeer product and are driven to help businesses that partner with them to succeed. 
"One of the elements of this deal that we found most attractive was the strength of the management team and staff at VSSI," said Mark Boyle, President of VMA. 
General Manager Joe Buchtinec, Sales Manager Eric Holby and Operations Manager Brian Hitchcock will work in conjunction with Mark Boyle to oversee operations at VSSI. This leadership team will ensure a smooth transition and continue to deliver exceptional service levels to its customers. Over the years, Mark Boyle was an integral part of the management team who expanded VMA from a single facility to a multi-state, award-winning dealer generating over $100 million in revenue. 
VMA shares many of the same customers as VSSI, and the acquisition allows VMA to coordinate and leverage its efforts to deliver additional value to these regional customers. Moreover, it will give some of Vermeer's pipeline customers the opportunity to have one service provider that will stay with them for the duration of large multi-state projects. As part of the acquisition, VMA will invest in providing customers with more inventory, service and on-the-road trucks. 
"We look forward to making significant investments to make sure that the Vermeer customer experience in these markets is second to none," said Boyle. 
About Vermeer Mid Atlantic
Vermeer Mid Atlantic, Inc. - a dealership group with eleven locations serving the Northern Ohio, Western Pennsylvania, Eastern West Virginia, Maryland, Delaware, Virginia, North Carolina and South Carolina markets - is a full-service Vermeer Platinum equipment dealer that specializes in selling, leasing, training and servicing Vermeer® NAVIGATOR™ horizontal directional drilling machines, equipment for utility installation, tree care, organic recycling and wood waste processing equipment. Equipped To Do More™, the extensive product line, pre-owned inventory, expansive parts catalogue and professional staff have made VMA a top-performer in the Vermeer Corporation partner network. Visit vermeermidatlantic.com for more information. 
About Vermeer Corp.
Vermeer Corporation is a manufacturer of industrial equipment. The privately held company distributes more than 120 products globally from seven production facilities and offices in Pella, Iowa, United States and multiple locations worldwide. Founded in 1948 by Gary Vermeer, as Vermeer Manufacturing Company, serves the construction, landscaping, environmental, excavation, and forage markets domestically and internationally from locations in the Netherlands, Germany, China, Singapore, Hong Kong, Canada, and Brazil, as well as various wholly and partially owned subsidiaries in several of the United States. Serving customers in more than 60 nations, Vermeer equipment and solutions are backed by a worldwide sales and support network of independent Vermeer equipment dealers. To learn about Vermeer Corporation, products, the dealer network and financing options, visit vermeer.com.
About Norris Automotive Group
Norris Automotive Group has been serving the automotive needs of Baltimore and surrounding areas since 1917. With locations in Dundalk, Ellicott City, Upper Marlboro, Rosedale, and White Marsh, Norris Automotive Group boasts an extensive inventory of new, previously owned and certified used vehicles. Its retail dealerships include Norris Acura, Norris Ford and Norris Honda. The Norris Commercial Division maintains over $7 million in parts inventory, 45 parts delivery vehicles servicing the mid-Atlantic region with multiple daily deliveries, three dedicated commercial service facilities in Baltimore, Rosedale and Upper Marlboro., a mobile hydraulics repair service, 18 mobile service crews that operate 24/7, and the largest commercial vehicle sales team in the region.